Look to 2 Rivers Multimedia for your video deposition needs.  Jeremy Signorini is a Certified Court Video Specialist (CCVS) and a Certified Deposition Video Specialist (CDVS) and is in good standing with the American Guild of Court Videographers. Jeremy follows the Federal Rules of Civil Procedure 30(b)(4), and the Federal Rules of Evidence which governs' video taped depositions intended to be admitted in a court of law.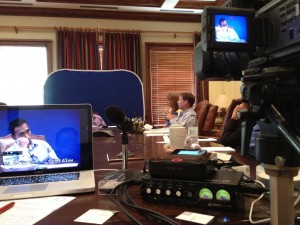 2 Rivers Multimedia offers rentals for conference room equipment that you might need. We have a projector, digital presenter and a projector screen. Jeremy is available to set up and manage the equipment if needed.
A conference room is available for rent in our studio at 1434 Grand Ave. in Glenwood Springs.
We travel the entire Western Slope of Colorado, specifically the following towns and areas:
• Aspen
• Glenwood Springs
• Carbondale
• Vail
• Eagle/Edwards
• Grand Junction
• Delta
• Montrose
• Gunnison
• Durango
For service in the Roaring Fork Valley and across the Western Slope, call today for all your legal video needs.
970.384.2519 or email us